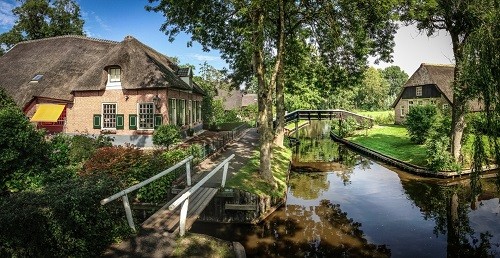 Giethoorn village in the Netherlands has no roads and no cars. Instead, the residents either walk or take boats through canals. Situated in the northeastern province of Overijssel, it is famous for its waterways and bicycle trails.
The village has 2,400 inhabitants, about 1,100 houses, and a lot of boats. The vice mayor, Mr. Dedden, says there are about 600 of them. With its stunning lifestyle, Giethoorn village stands as a successful example of a green, car-free, experience.
Read Also: London becomes the world's first national park city, committed to giving people access to nature
A report by the European Commission (link), provides a thorough argumentation for the car-free city paradigm. It also provides several case studies. Among them the experiments of Kajaani (Finland), Wolverhampton (England) and Nuremberg (Germany).
Giethoorn takes the concept further forward by encouraging a green way of life. Residents enjoy walking, bicycling, taking boats and filling the environment with all sorts of trees and plants.