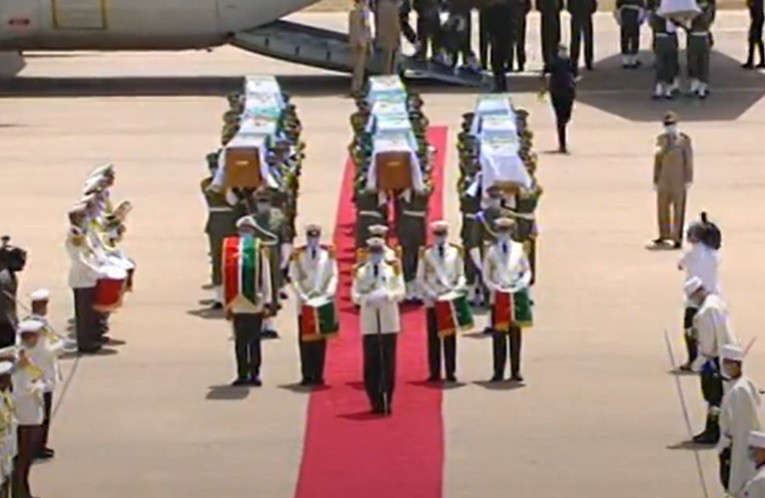 France has returned the skulls of 24 Algerian freedom fighters to Algeria on Friday July 3 2020.
These skulls belong to Algerians who had resisted to the French colonial forces in 1830. But how did they land in Paris is a shocking story.
After decapitating tens of Algerian militants, the French troops delivered their skulls to Paris.
In a move that shows the racial spirit of the time, the French authorities decided to exhibit the Algerian skulls in the Museum of Mankind.
They will be kept there for 170 years as a kind of specimen of the North African race.
After decades of negotiation and failed attempts, the French President Emmanuel Macron declared on December 6, 2017 that he accepts to return the 37 Algerian skulls to Algeria.
Finally, on July 3 2020, the remains arrived to the Algerian capital, escorted by 3 MiG fighter jets.
In tears, the Algerian President, Abdelmadjid Tebboune, presided an official ceremony to receive the remains. They will be displayed in the Palace of Culture then buried in Algiers on Sunday.
The burying time was carefully chosen. It marks the 55th anniversary of Algeria's independence from France.
Over a century after the decapitation of the first group of militants in 1830, the Algerian National Liberation Front started a relentless resistance effort. About 1.5 million people were dead from 1954 to 1962 in the war for independence.
The war forced the French president Charles de Gaulle to launch an independence referendum in Algeria (which the French authorities called it 'the French Algeria').
The Algerian people voted in favor of independence in a landslide result (99.72%) in July 1962. The official independence was then declared on September 24, 1962 and an Algerian government took power.